WED, JAN 12TH, 7-8 AM: Jrs/Srs are invited to the HS library for YOUTH MAKE THE ASK, hosted by Deshler Community Fund & the NE Comm Foundation to help show students how to earn income for their student activities.  FFA Greenhouse fundraising students are encouraged to attend!

All students are encouraged to make posters & attend the BB games on Tue night, Jan 11th, in Deshler as Stateline Media, LLC will be here taking pictures/videos for our upcoming commercial. Wear your purple, and let's be LOUD & PROUD to be a Dragon!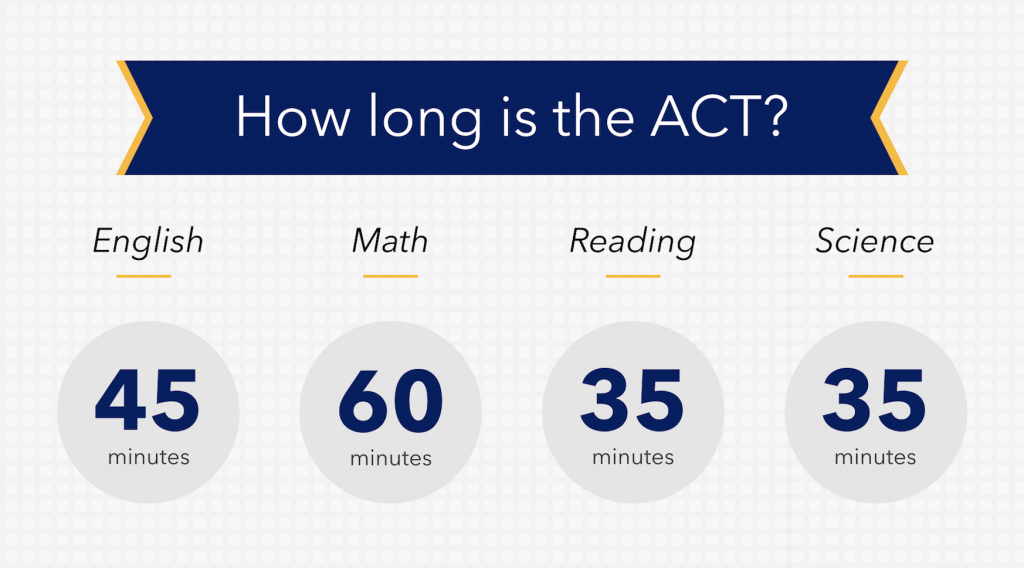 JV games tonight at Shelton will start at 4:30 for the girls; tomorrow night in Hebron, they are scheduled to start at 2 PM. On both nights, there are shortened JV games, so the varsity games may start early - please spread the word!

Mr. Rickstrew's students are working on an electrical unit and should be ready to wire their own projects soon!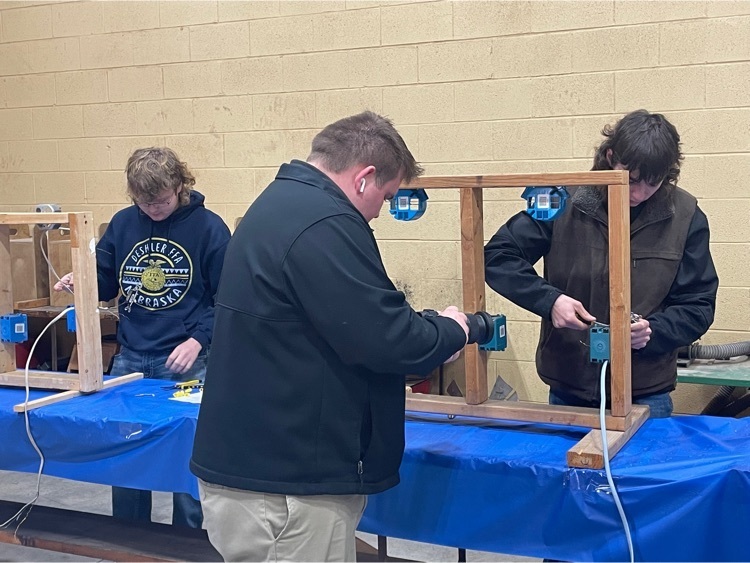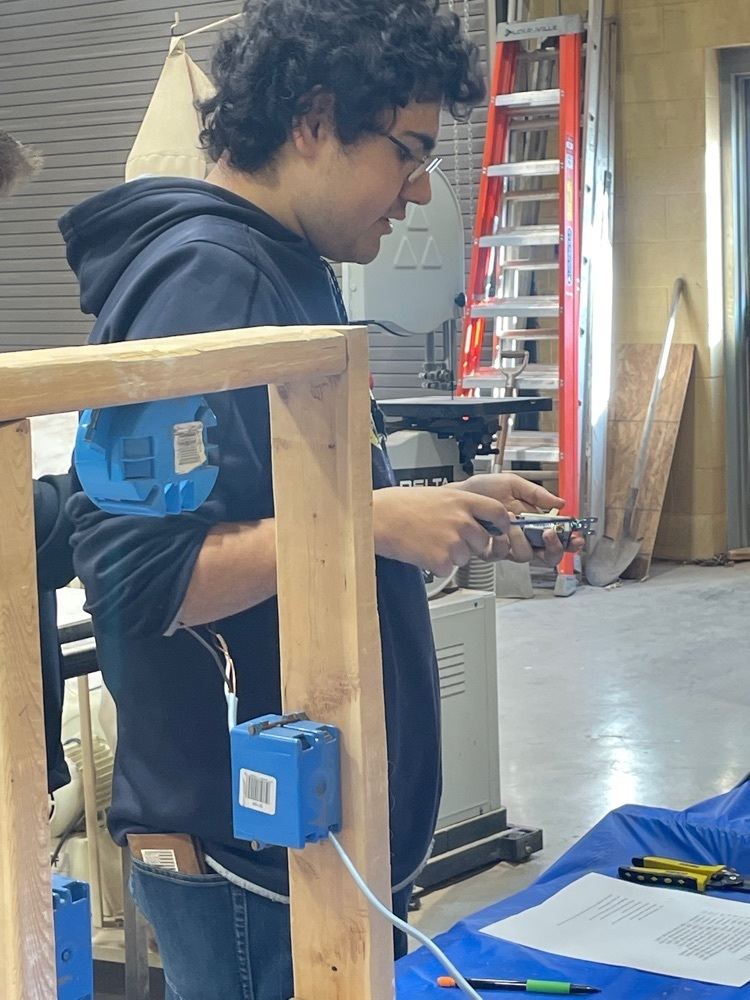 Ms. Tori Schoof was just in these halls as a student four years ago, and she is now taking on a new role — that of substitute teacher! Welcome back, Ms. Schoof!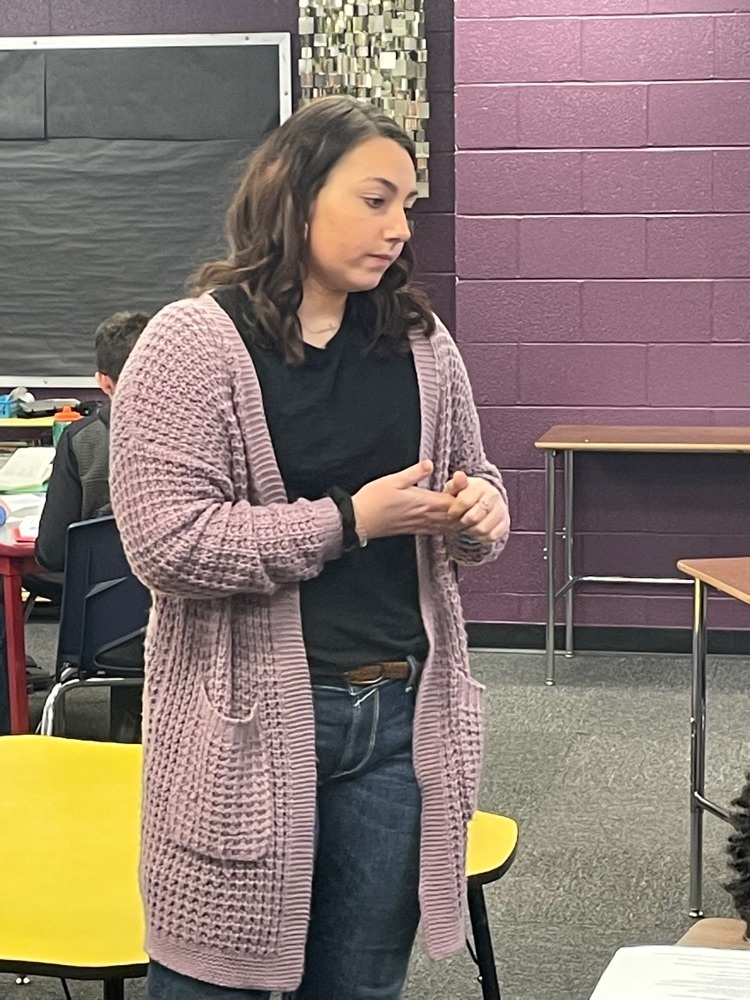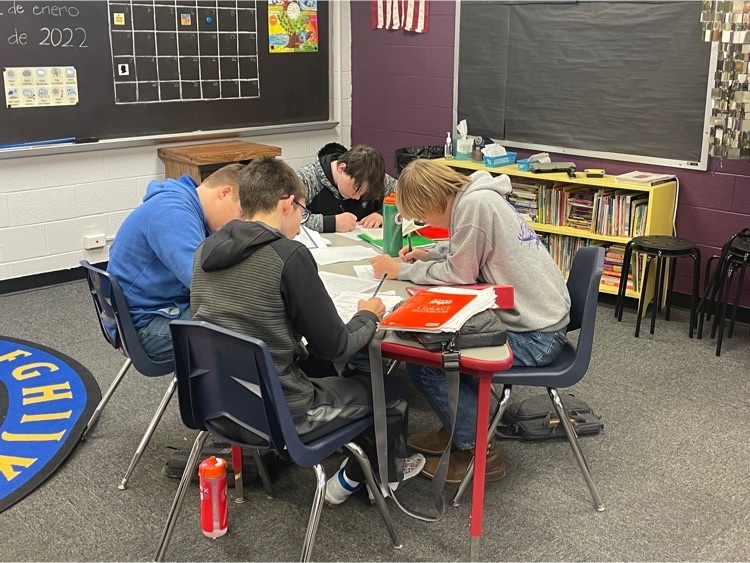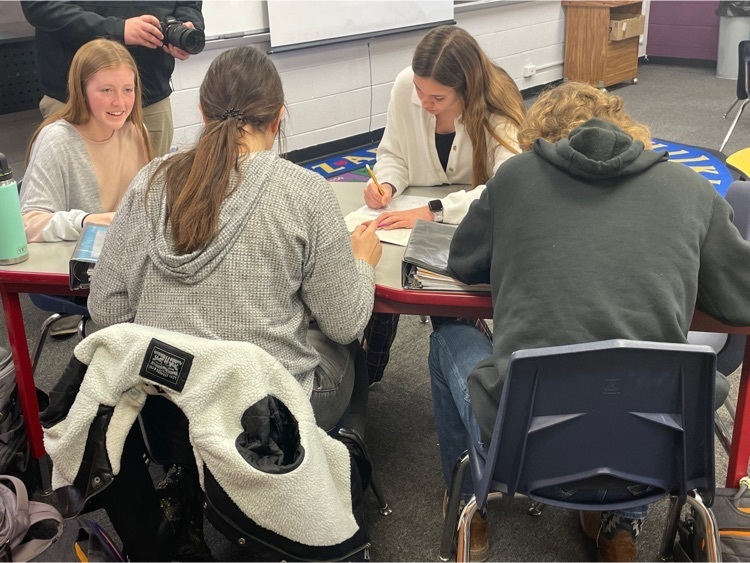 The Preschoolers jumped right back into routine and are continuing to do their best work! Everyday we do Handwriting Without Tears and everyday these kids continue to improve upon themselves. Handwriting Without Tears makes writing developmentally appropriate and makes it easier for all children to learn how to write.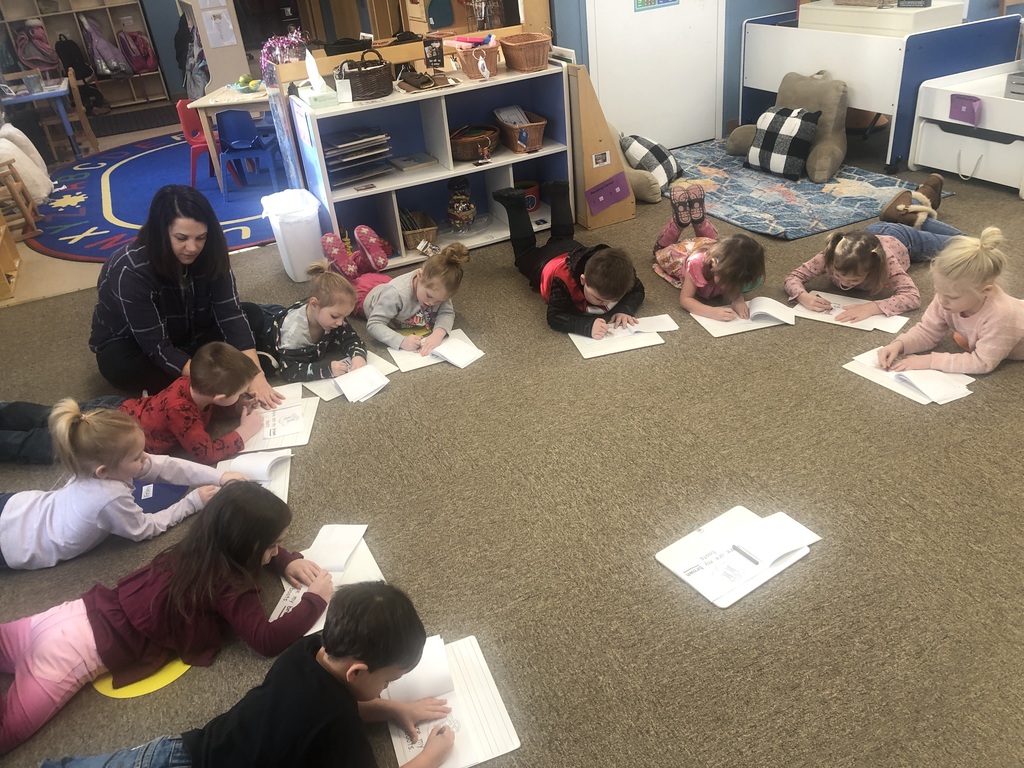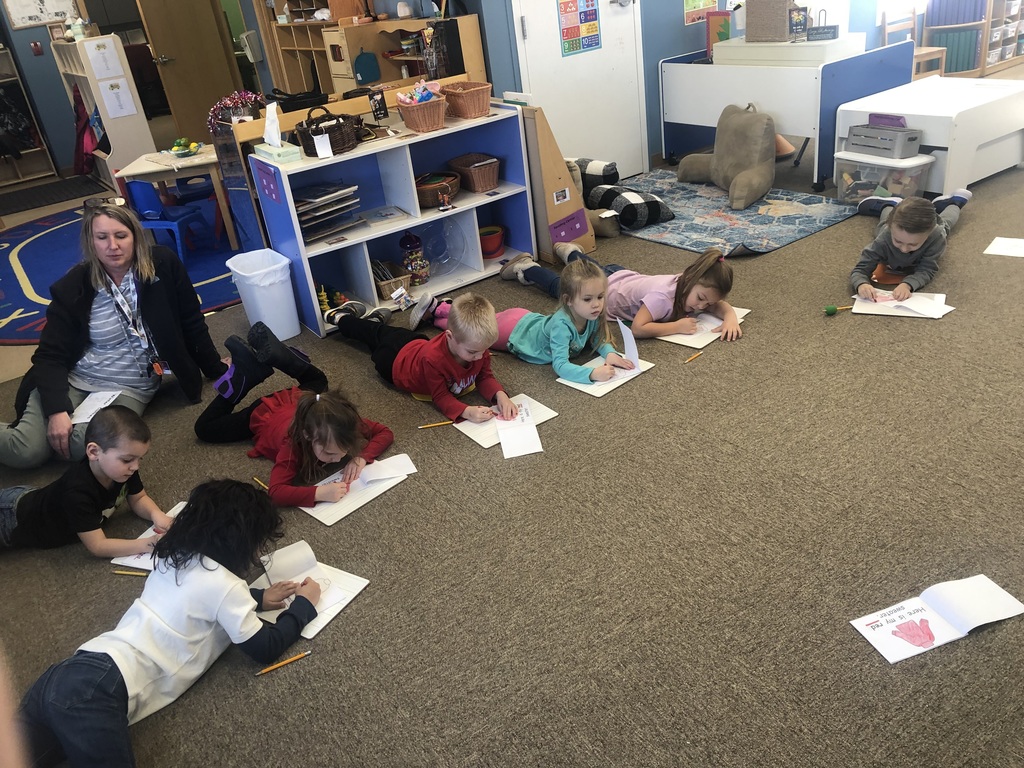 Today is THE DAY that we begin production of our Deshler Public Schools commercial! State Line Media, LLC will be photographing and videoing students/staff today for our upcoming DPS commercials. Go Dragons!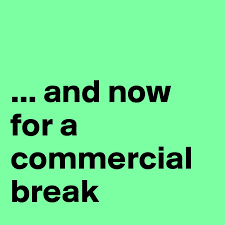 Published Poets! Thirteen 8th graders are now published poets. Students submitted their favorite poems to the Celebration of Young Poets contest. Congrats to these talented writers!

Thank you to area business men and women that helped with today's Young Professionals Day. Students presented resumes for interviews, had a meal with those in their career field, and hopefully, learned a lot! We are thankful for the support we received to make this day happen!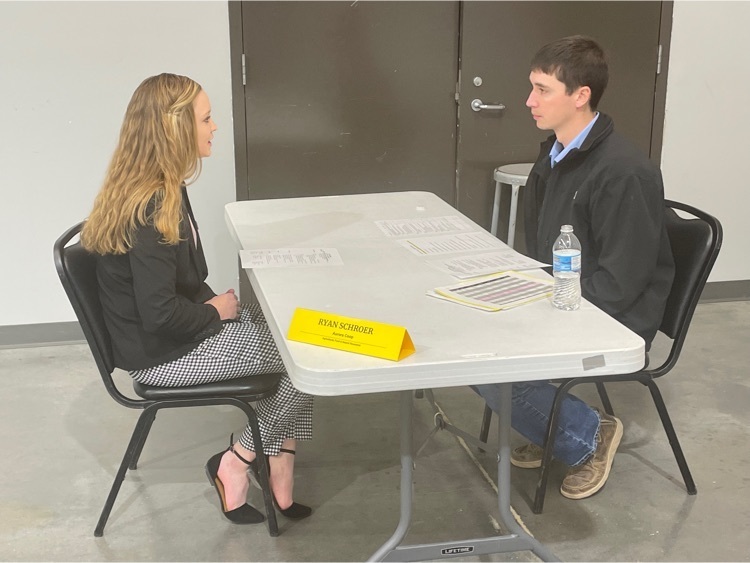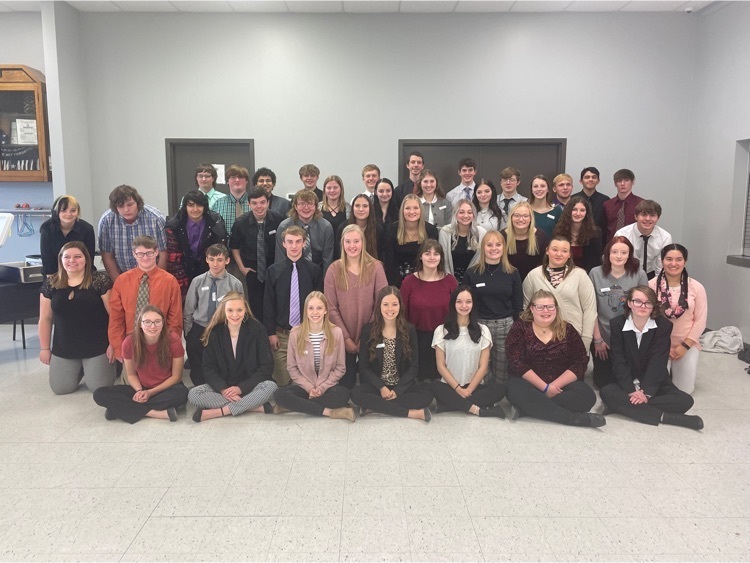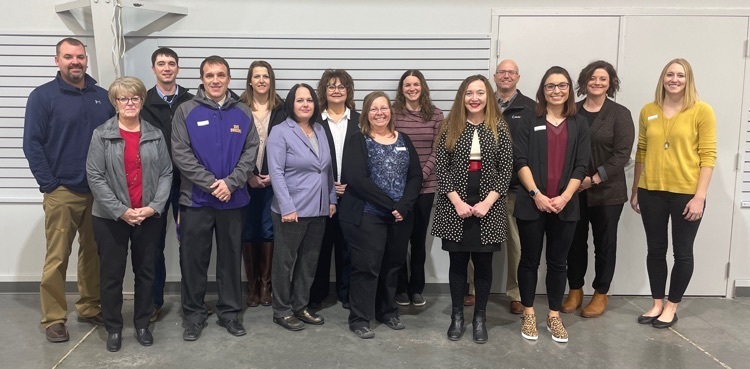 It is mock interview day for these juniors and seniors. After a quick prep on Monday with sharpening their resumes and practicing their interview skills, they are all set for today!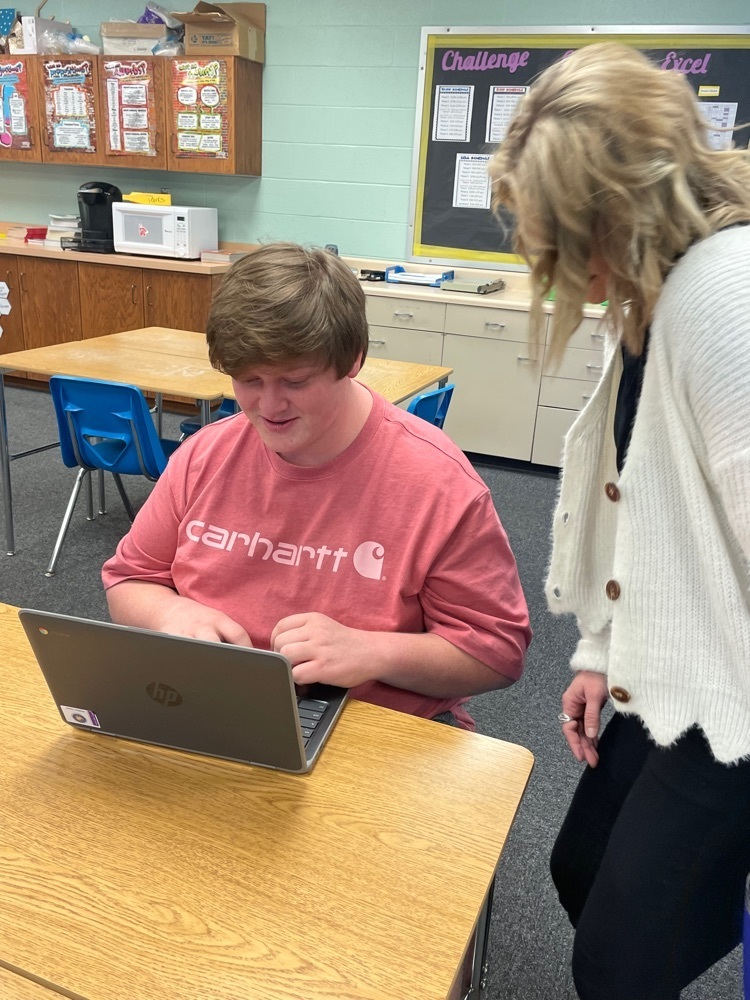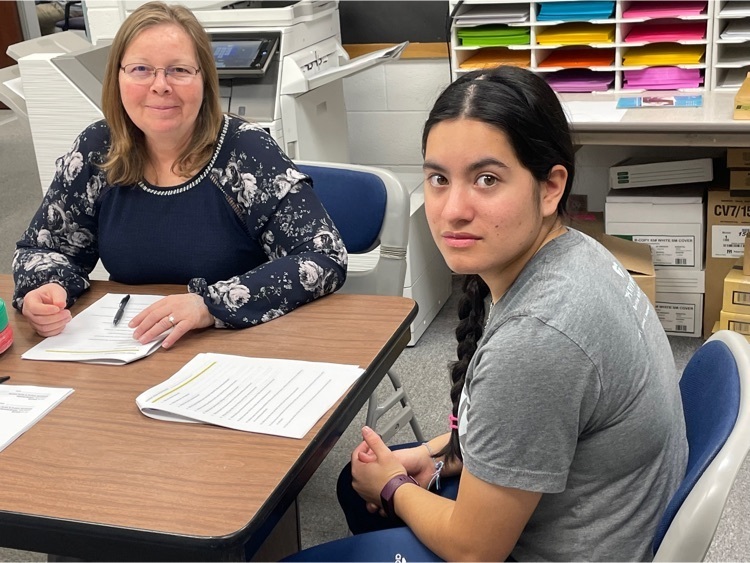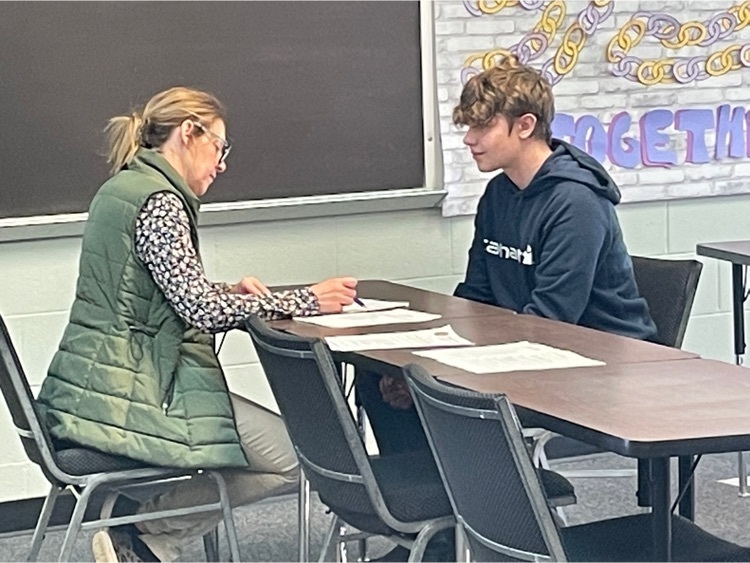 Students taking DUAL CREDIT classes are reminded to turn in the ACADEMIC INTEGRITY paperwork. There are extra copies available on the library counter. Also, FRIDAY is the last day to register for the 2/12 ACT test (the last day that most colleges will accept a test score).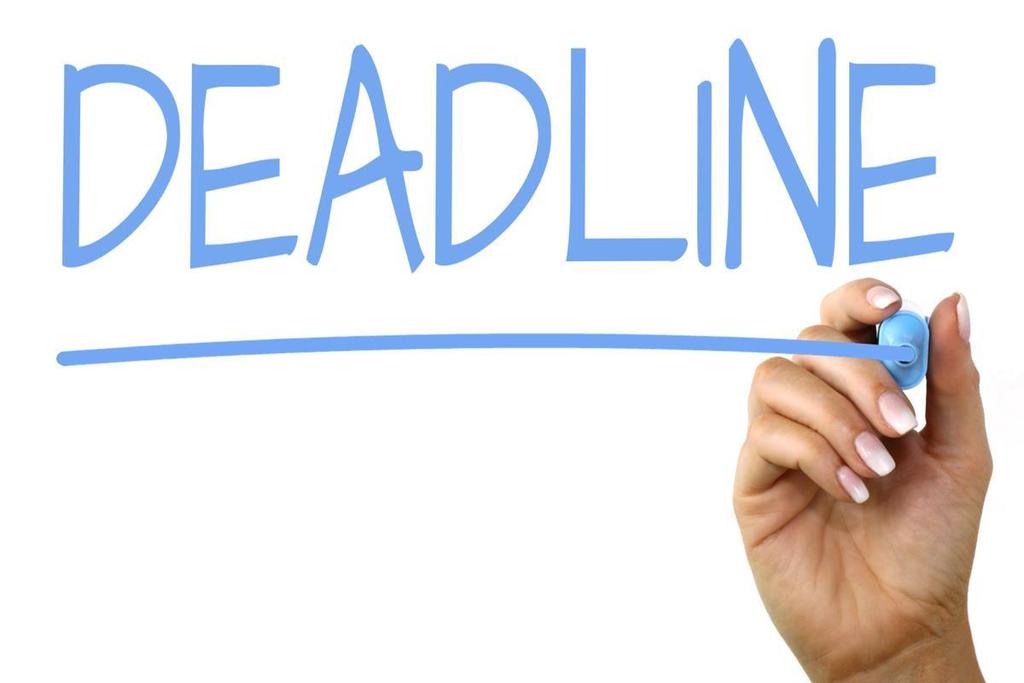 Please note that the game times for the Thayer Central v Deshler basketball game on Saturday have been moved UP: Girls JV at 2 PM, boys JV to follow, girls' varsity at 3:45 PM, and boys' varsity at 5:15 PM. Go Dragons!


What's for lunch and breakfast at DPS in the month of January? Check here OR the daily announcements linked here:
https://bit.ly/DPSDAILYNEWS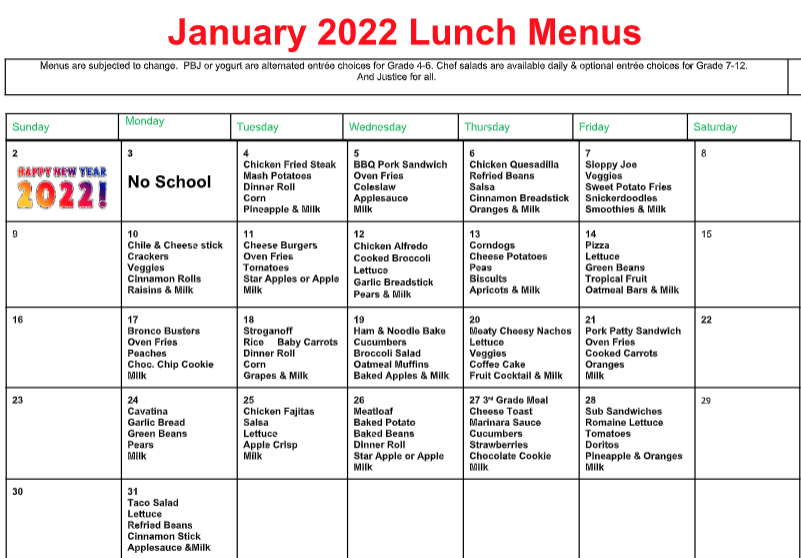 Tables are set up in the lobby with clothing apparel from the Booster Club. Stop by today & pick up your order! Go Dragons!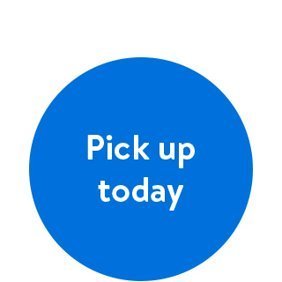 Our senior of the week, Aidan Collins, has plans of becoming a mechanical engineer. Aidan shares some great advice on respect to make the school a great place to learn! Thank you, Aidan, and good luck in your future!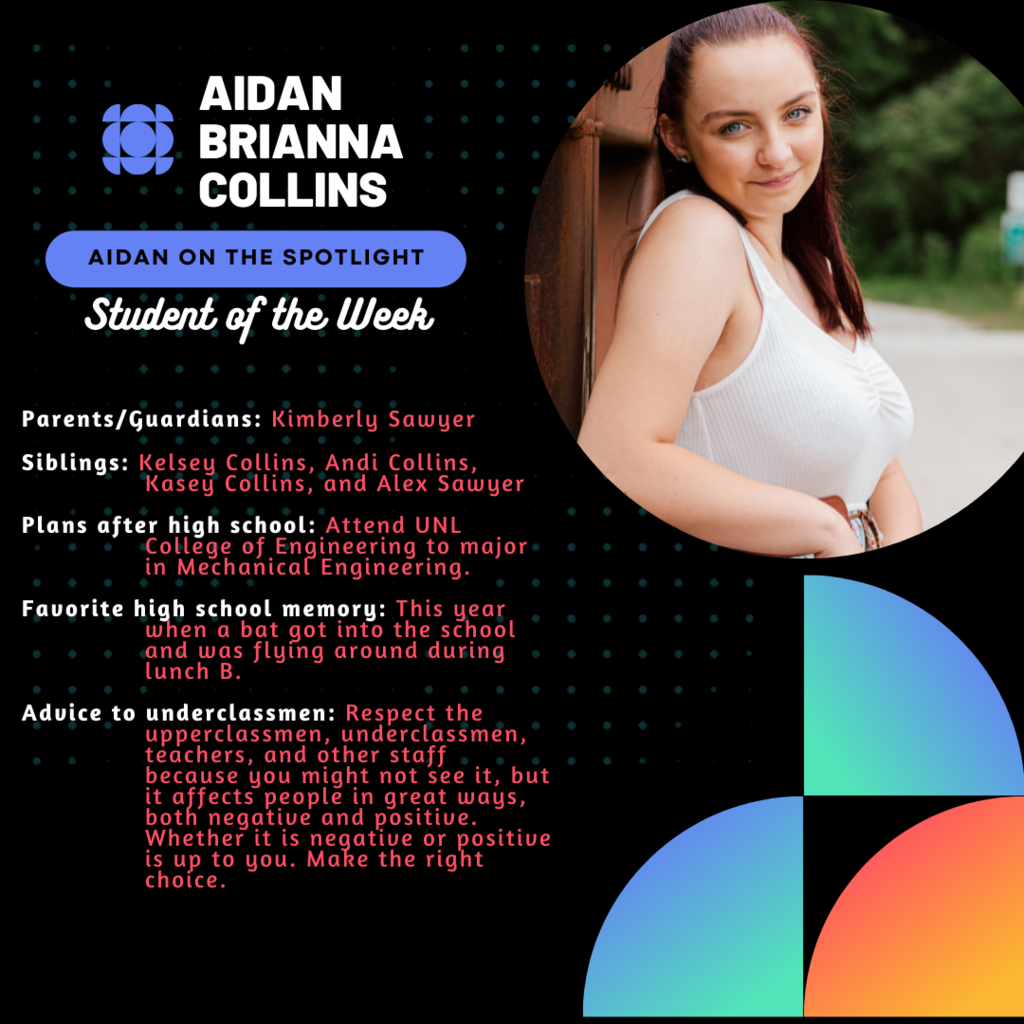 We are looking forward to seeing the students back on TUE, JAN 4TH! Please review the daily bulletin & jrs/srs are reminded to have all resumes completed & uploaded (check your email for instructions) for Wed. Enjoy your last day off!
https://bit.ly/DPSDAILYNEWS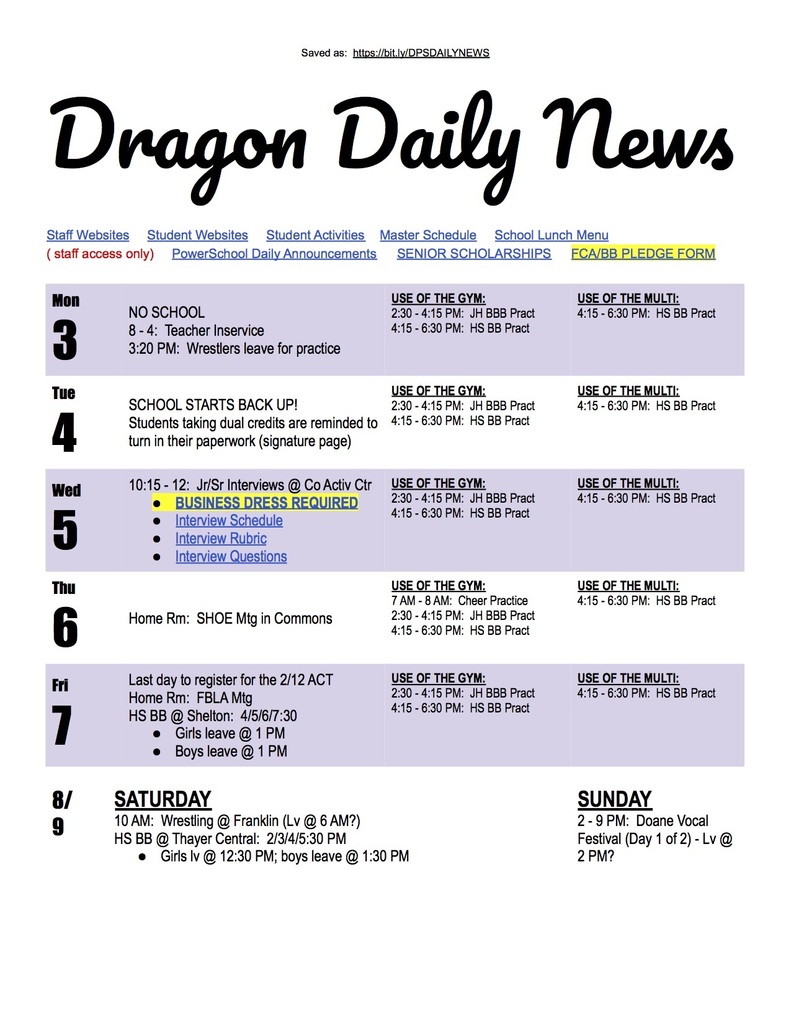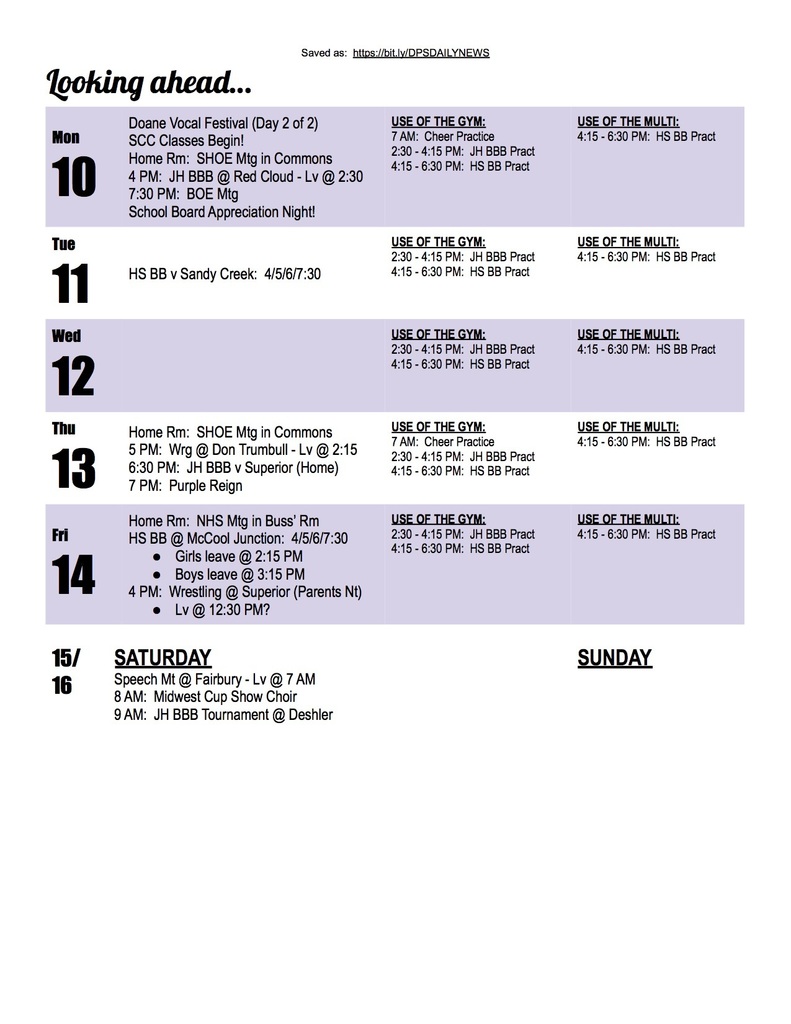 Jrs/Srs: Interviews on 1/5; practice on 1/4. Please make sure resumes are uploaded prior to 1/4. Business dress is REQUIRED on 1/5. Questions? Stop by the school or call/email Mrs. Epley today! Check your email for details! Gr 7-10 will interview on Feb 9th & 16th!